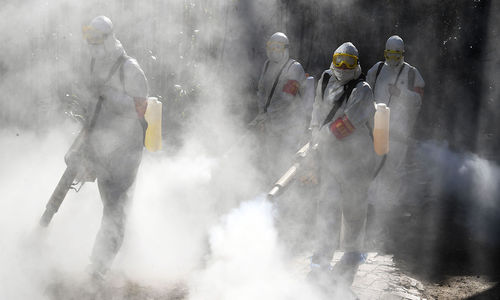 Coronavirus as a wake-up call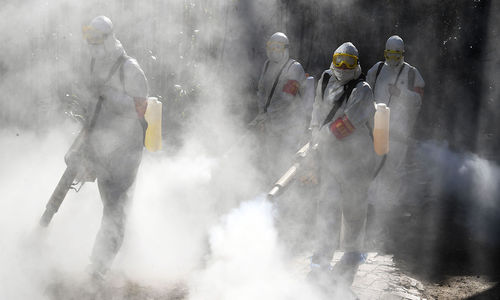 By Merrill Olson
The Coronavirus has shaken the world over the past weeks. While it brought the United States economy to a practical standstill, it also resulted in thousands entering eternity. Only the Lord knows how many went into an endless eternity of suffering without Him while others came into His eternal presence with joy (2 Cor. 5:8). It is a sobering thought! For the unsaved who entered "Hades" (Luke 16:23), there will be no chance to repent and get right with God. Their suffering is sealed. The Great White Judgment awaits them and then an eternal hell (Rev. 20:11-15).
Tragically, the news people and politicians mention none of this. It is foreign to them. They do not have a clue in what God's Word says. Their humanistic thinking deters them from any recognition of the human soul and eternity. In fact, the Bible says, "But even if our gospel is veiled, it is veiled to those who are perishing, whose mind the god of this age [Satan] has blinded, who do not believe, lest the light of the gospel of the glory of Christ, who is the image of God, should shine on them" (2 Cor. 4:3-4).
Yet, one would think that somehow in peoples' minds that they would realize that this is a wakeup call in understanding how fragile life is and how unexpectedly death can come. This should be true especially in the lives of people who have lost family, friends, close neighbors and others they know personally. Surely, there would be some kind of human wisdom to seek for answers and to seek God (Isaiah 55:6-7). Still, without the drawing grace of God, there will be no searching (John 6:44; Rom. 3:10-11).
But ultimately, the culprit is Satan. He is successful in putting a veil over the minds of unbelievers. His desire is to keep them in perpetual darkness, "lest the light of the glory of Christ…should shine on them." He does not want people to be saved. In return, they make decisions that are of the realm of spiritual ignorance and many times darkness.
Yet, this may be a precursor to what is ahead when the Antichrist is presented before the world. The Bible says Revelation 13:3-4: "…And all marveled and followed the beast. So they worshiped the dragon who gave authority to the beast, saying, 'Who is like the beast? Who is able to make war with him?'" Appallingly, people worship the Antichrist. They are not only amazed by him, but they actually worship him as God; and worship the dragon as well, who is Satan. Their spiritual blindness is full-blown!
Nonetheless, one other thing the coronavirus has proven is that people yield to the government out of fear. Whether the total shutdown was relevant, the point being is that people submit out of fear. The rule of the Antichrist will undoubtedly be a fearful thing! Also, some state leaders are continuing to use their power to keep people in submission and even jeopardize church gatherings and rule against Biblical truths.
However, followers of the Lord Jesus must always remember that our lives are in the hands of our sovereign God! He alone rules! Our hope and trust is in Him alone. Even at death, we are "present with the Lord" (2 Cor. 5:8).
Merrill Olson served as a senior pastor for thirty-four years. He received a B.S. from Minnesota State University-Mankato, an M. Div. from Bethel Theological Seminary, and a D. Min. from Columbia Evangelical Seminary. He is currently involved as an interim pastor along with a teaching and writing ministry. His emphasis is on apologetics and training believers to defend their faith in Christ from God's Word. He is well versed in Bible prophecy as it pertains to end times. He is a gifted speaker with the conviction that only by the Word of God can people experience inward transformation by the Holy Spirit. He and his wife, Jan, reside in Minnesota and have two daughters and four delightful grandchildren.

Leave a Comment
You must be logged in to post a comment.