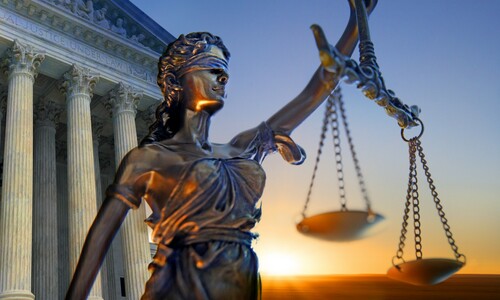 Equal protection under the law?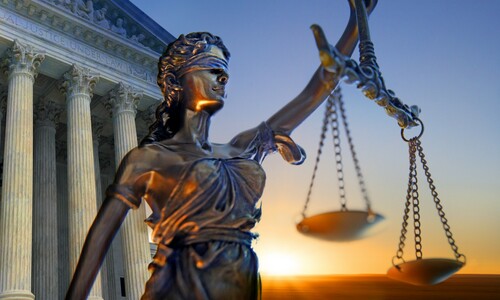 By Paul Bawden

Robert B. Charles, in an AMAC article (8/24/22), wrote that since the overturning of Roe v. Wade, some 92 attacks have been made on pro-life centers (32 on churches) and no arrests. When a Planned Parenthood center in Michigan was attacked a year ago, within four days, an arrest was made.
As Charles commented, certainly, political violence of all kinds is wrong regardless of who commits it in the U.S.A. Unless there is universal condemnation and needed arrests are made, the country soon becomes a lawless nation.
But why this unequal treatment? Is there a blinding to the law when attacks are made on pro-life centers but not so when an attack is made on a pro-choice center? What about refusing to protect conservative justices when the law says they should be? So, does this mean that the Justice Department ignores the law while letting those with whom they don't agree go without justice? It appears so.
The 5th and 14th Amendments of the US Constitution say that government cannot "deny to any person within its jurisdiction the equal protection of the laws." According to these words, the Justice Department of the US is not carrying out what the Constitution is saying. In fact, it appears the Justice Department, ignoring the law, becomes the law it wants to be. Such means if you are not in sync with its philosophy and ideology, you are not going to get a fair shake – equal protection under the law.
Actually, this has nothing to do with politics, although it has become that, for the law is clear, and must be upheld regardless of who one is, and regardless of one's lifestyle, religion, and color of one's skin.
The sad outcome of the Justice Department's inaction regarding those it doesn't agree with means that those committing violence and speaking negative rhetoric are only emboldened. When true justice prevails, then righteousness is exalted in the country, and each person is given the equality of justice he or she deserves. From a citizen's vantage point, such can only change through the ballot box. Those who vote in November need to think wisely about what change is needed to bring equal protection under the law.
There is, though, a deeper issue here and it's not physical/material. Rather it's spiritual. The Psalmist put it this way in 89:14, "Righteousness and justice are the foundation of your throne; steadfast love and faithfulness go before you." What's the Psalmist telling us? There is the ultimate of true justice. It's not found in us but in the biblical God who is holy, and in tandem with His love, shows no partiality (Rom. 2:11; Acts 10:34-35)..
So how do we know the biblical God is ultimate justice? Only one place makes that demonstrated in time eternally, the cross of Jesus Christ. There the holiness and love of God were displayed openly as Christ took our place for our sin against God – being made sin for us who knew no sin on the cross (II Cor. 5:21), was buried, and conquered the grave bodily. In so doing, Christ satisfied God's holiness and judgment, and provided us in His love His forgiveness and eternal life. Now God is just and the justifier of the one who believes in Jesus (Rom. 3:26).
This also means that the believer in Christ can now show true justice by respecting each person, knowing everyone is valuable made in the image of God. He also knows that equal justice under the Law should be practiced. Living in a broken world, he knows that such will not always be the case. At the same time, the believer knows that in His time Christ will return to earth and establish His kingdom with His equality and with equal protection under the law. In the meantime, the follower of Christ should practice in His power the words of the prophet Micah, "to do justice, to love kindness, and to walk humbly with your God."

Paul Bawden is married and served in the pastoral ministry for 45 years, retiring in 2011. He graduated from the University of Wisconsin-Madison with a B.A. in Speech and attended Dallas Theological Seminary, receiving a Master of Theology. He has taken counseling courses at Trinity Evangelical Seminary in Deerfield, Illinois. Paul is a lifetime member of the Evangelical Free Church of America, as well as being a member of Interim Pastor Ministries (IPM), which serves churches during their time of transition in searching for a new pastor. He writes for Union Gospel Press, as well as being a volunteer writer for GotQuestions.org. Paul likes to write, read, bike, and work in the yard. The Bawdens have had the privilege to travel to Mexico and Romania on mission trips and visited various countries in Europe.
Leave a Comment
You must be logged in to post a comment.