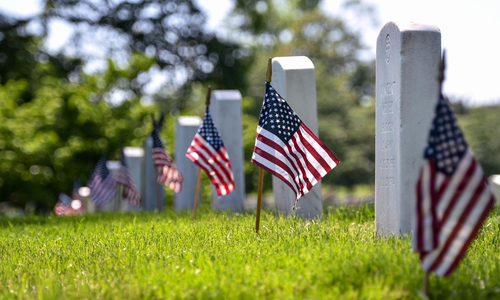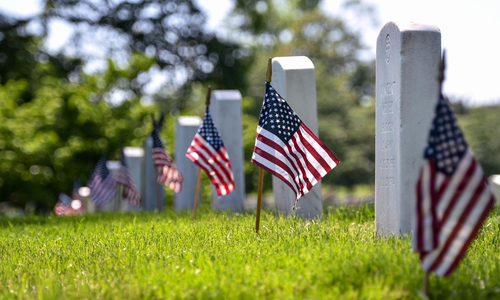 By Paul Bawden
Time has gone by quickly and Memorial Day weekend is here. Since Memorial Day is Monday, I thought a brief history of the Day might be helpful, as the Day is set aside to honor the men and women who died while serving in the U.S. military.
Known originally as Decoration Day, it originated three years following the Civil War on May 5, 1868, when Maj. Gen. John A. Logan established Decoration Day as a time for the nation to decorate the graves of the war dead with flowers on May 30. It is believed that date was chosen because flowers would be in bloom all over the country. After World War II, Decoration Day was called Memorial Day and became the official name by Federal Law in 1967. In 1968, the government moved Memorial Day to the last Monday in May making it an official holiday in 1971.
In honor of those who have given their lives for our country, small American flags are placed on many national cemeteries on Memorial Day. Many Americans visit cemeteries or memorials, holding family gatherings and participating in parades. In recent years, the custom has grown in many families to decorate the graves of all departed loved ones. Unofficially, Memorial Day marks the beginning of the summer season.
To honor those who died serving their nation during war, in 1915, inspired by the poem, In Flanders Fields" by John McCrae, Monia Michael came up with the idea to wear red poppies on Memorial Day in their memory. She was the first to wear one, and sold poppies to her friends and co-workers with the money going to benefit servicemen in need. Eventually, the VFW became involved in 1922, and the first veterans' organization to nationally sell poppies. Two years later, the "Buddy" Poppy program was selling artificial poppies made by disabled veterans, which poppies are offered today for a donation to provide financial assistance in maintaining state and national veterans' rehabilitation and service programs, while partially supporting the VFW National Home For Children.
In December 2000, the "National Moment of Remembrance" resolution was passed, which encourages all Americans to pause wherever they are at 3 p.m. local time on Memorial Day for a minute of silence to remember and honor those who have died in service to the nation.
So, let's pause for a minute of silence on this Memorial Day, whether at 3 p.m. or at another time, to honor those who have given their lives in service for our great country so that we can experience the freedoms we enjoy today. Freedoms, we should never take for granted, regardless of our background, religious belief or lack thereof. Still, sad to say, there are those who use the freedom they have in this country to try to destroy the freedoms that they enjoy.
But the greatest freedom is knowing Jesus Christ as personal Savior to be able to do His will to the glory of God (John 8:34-36; Galatians 5:1, 13-14). I trust that you know Him personally (John 3:16), and are enjoying your freedom in Christ.
Paul Bawden is married and served in the pastoral ministry for 45 years, retiring in 2011. He graduated from the University of Wisconsin-Madison with a B.A. in Speech and attended Dallas Theological Seminary, receiving a Master of Theology. He has taken counseling courses at Trinity Evangelical Seminary in Deerfield, Illinois. Paul is a lifetime member of the Evangelical Free Church of America, as well as being a member of Interim Pastor Ministries (IPM), which serves churches during their time of transition in searching for a new pastor. He writes for Union Gospel Press, as well as being a volunteer writer for GotQuestions.org. Paul likes to write, read, bike, and work in the yard. The Bawdens have had the privilege to travel to Mexico and Romania on mission trips and visited various countries in Europe.
Leave a Comment
You must be logged in to post a comment.