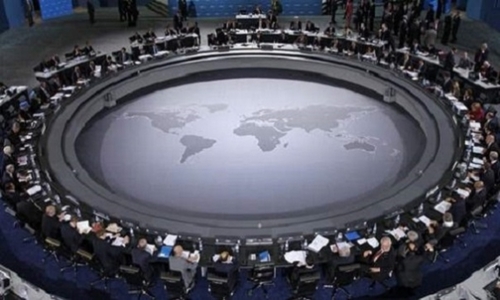 Globalism as history moves forward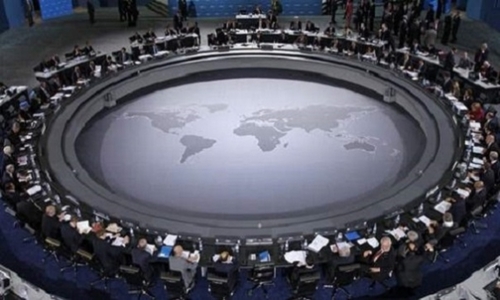 By Merrill Olson
Globalism is rapidly moving forward today as countries and national leaders are becoming more and more united into an anti-God system. In fact, it is very evident in the stress for a global economy and for individual nations to give up their own sovereignty for the "common good" of the world.
Only in this way is it believed that true economic, political, and social justice can even take place in a world utopia that leads to a "greater good." It is even evident in the push and goal of the Roman Catholic Church to unite all Christendom into a global church that will consist of both Catholics and Protestants alike. Pope Francis is a big instigator of this in his appeal for social justice. In turn, this has caused others to downplay important biblical issues and differences for reaching this "common good." But, what is even more interesting is how rapidly he has gained popularity. It makes one wonder what evil force is behind him when what he says goes against biblical doctrines that are evident in true Christianity and what it means to follow Jesus Christ.
However, we know what this evil force is because the Bible is very clear regarding it. The apostle Paul said, "For we do not wrestle against flesh and blood, but against principalities, against powers, against the rulers of the darkness of this age, against spiritual hosts of wickedness in heavenly places" (Ephesians 6:12). Therefore, this warfare is not against godless philosophies, infidel rulers and leaders, false teachers, or those who deny Christ and who He is. Instead, it is against battalions of demonic forces who are evil spirits, wicked fallen angels that wield tremendous power. They possess and influence world rulers, politicians, governors, mayors, district and city leaders, unregenerate religious leaders, and any individuals who stand against God given truth and morals. Their depraved minds are set on Godless agendas.
Tragically, even many churches, who once taught biblical truth, have lost their distinctiveness for political correctness. They have fallen to the LGBT agenda and everything that is connected with it. What God's Word calls sin and the need for repentance, their call is for acceptance. There is no desire whatsoever for holiness and Jesus' call for obedience (John 14:15, 23-24).
Therefore, the forces of evil behind all of the events mentioned are pushing to a one world government where evil will become full-blown. And, our present day is seeing the ground work taking place. Even the Ezekiel 38 and 38 alignment is forming that was prophesied almost 2,600 years ago. Their desire is to invade Israel because of her wealth that consists of gas, oil, gold, and its technology. Yet, there is a desire to destroy Israel. This threat is continually proclaimed by Iran and other Muslim nations.
So, where is it all leading? It is directed toward globalism and a one world government and the belief that only this will solve the world's problems. And people, who love the Lord Jesus and His Word, know that it will happen as He said. An evil world ruler empowered by Satan will arise (Rev. 13). But before it happens, the Lord's redeemed will partake in what the Bible calls "the blessed hope" (Titus 2:13).
Merrill Olson served as a senior pastor for thirty-four years. He received a B.S. from Minnesota State University-Mankato, an M. Div. from Bethel Theological Seminary, and a D. Min. from Columbia Evangelical Seminary. He is currently involved as an interim pastor along with a teaching and writing ministry. His emphasis is on apologetics and training believers to defend their faith in Christ from God's Word. He is well versed in Bible prophecy as it pertains to end times. He is a gifted speaker with the conviction that only by the Word of God can people experience inward transformation by the Holy Spirit. He and his wife, Jan, reside in Minnesota and have two daughters and four delightful grandchildren.

Leave a Comment
You must be logged in to post a comment.