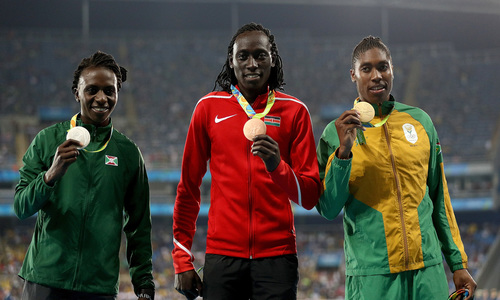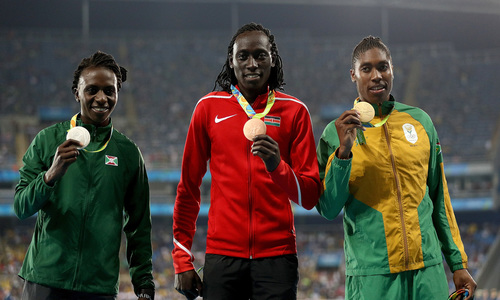 Three intersex athletes won all the medals at the 2016 Olympics in the women's 800 meters.  (1) Caster Semenya, South Africa, 1:55.28 (2) Francine Niyonsaba, Burundi, 1:56.49 (3) Margaret Wambui, Kenya, 1:56.89
Thanks so much for your prayers and support. We are very grateful. You have supported our work as we stand up for Christian athletes. Never a dull moment. We pray for you all. We ask God to give you all strength, peace, and provision through these difficult days that we face as a country. Jesus Christ's coming is getting closer every day.
We did the following in December. (1) Opposed a Billings, Montana high school that removed the Fellowship of Christian Athletes because they would not allow homosexuals in leadership. (2) Opposed the Green Packers who donated money to Planned Parenthood. (3) We encouraged Washington state Representative Brad Klippert for supporting a bill to stop transgenders from competing in high school.
The following was published at OneNewsNow.com (American Family Association). It goes over the history of our work and what is ahead. God bless you all, Steve and Liz McConkey
Ministry backs bill to keep trans teens from competing vs. girls
Tuesday, December 31, 2019 | Michael F. Haverluck (OneNewsNow.com)
A Wisconsin-based sports ministry is supporting a representative from Washington state who is proposing a bill that would prohibit transgender male students from competing against girls in a number of high school sports.
4 Winds Christian Athletics founder Steve McConkey is backing State Rep. Brad Klippert (R-Wash.) in his effort to pass House Bill 2201 so that naturally born male students self-identifying as girls will no longer be able to compete "with and against female students in athletic activities."
The bill, which has been prefiled for introduction in the 2020 regular session, states that certain sports such as golf, tennis, and track and field – in which girls compete against each other individually – must be reserved exclusively for genetically female students.
Klippert is taking action after hearing numerous complaints that biologically stronger and faster male students posing as girls are clobbering the competition.
"It's been brought to my attention on multiple occasions by constituents [that] athletes whose first gender was male are competing against females and dominating sports," Klippert states in a 4 Winds press release.
McConkey is grateful to see a representative from a left-leaning state take a stand for biblical sexuality on the playing field so students have a fair chance to win – competing against their own sex … as God designed.
"We applaud brave people like Representative Klippert," says McConkey. "We believe transgenders should be eliminated from all sports, but he is making an effort to protect girls from those who are trying to upstage them in their events. We need politicians with his courage to stand up before it becomes more widespread."
Nearly 17 years ago in 2003 – when the transgender movement was beginning to take off – McConkey singlehandedly took a public stand against the International Olympic Committee when it allowed transgender athletes to compete in the Olympic Games.
The following year, in 2004, Massachusetts became the first state to legalize same-sex "marriage," and the LGBT movement has gained momentum ever since with transgender male athletes making headway to compete in amateur sports at the high school level, the NCAA, the Olympics, and the military. McConkey laments that the transgender movement is also spreading into professional football (NFL), basketball (NBA), and baseball (MLB), and he continues to fight the LGBT agenda as it extends its arms into virtually every facet of Americans' lives.
After McConkey called upon Rasmussen Reports to conduct a poll to see where Americans stand regarding transgenders competing in sports, it was found that a majority think it is wrong.
"A Rasmussen Reports poll released in November found that 51 percent of U.S. adults surveyed opposed allowing athletes to compete on the basis of their gender identity – including biological males who participate in women's and girls' sports," the Washington Times reported last month. "Only 29 percent supported 'allowing transgender students to participate on the sports teams of the gender they identify with,' while 20 percent were undecided, the survey said."
Rasmussen also conducted a similar poll in June – when 54% opposed it, and just 28% backed it.
"Most oppose transgender athletes on opposite sex teams," Rasmussen Reports tweeted on June 9.
Columnist and constitutional attorney Anita Milanovich argues that no matter how compassionate or politically correct one tries to view transgenders in sports, the stark reality is that biological male transgender athletes will continue to crush their female competition.
"On average, men have 36 percent more skeletal muscle mass, according to one study. In general, males are taller, have thicker bones and have greater lung capacity than their female counterparts," Milanovich pointed out in USA Today. "Cross-hormone treatment – with all the risks and side effects such treatments entail – cannot fully suppress all these biological competitive advantages.
"Indeed," she continues, "the entire premise behind sex-specific competition in sports is the simple scientific reality that, in general, males are stronger, faster and more physically powerful than females. As a result, if males and females are required to compete together, women will almost always lose."
Save Women's Sports founder Beth Stelzer – a biologically female amateur powerlifter – said the consequences of allowing transgenders to compete in girls' and women's sports are catastrophic.
"If biological men are allowed to compete in women's sports, there will be men's sports, there will be co-ed sports, but there will no longer be women's sports," warns Stelzer, as quoted in the column.
Leave a Comment
You must be logged in to post a comment.