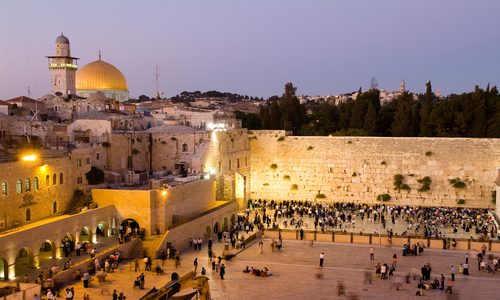 Jerusalem's trembling, but futuristically peaceful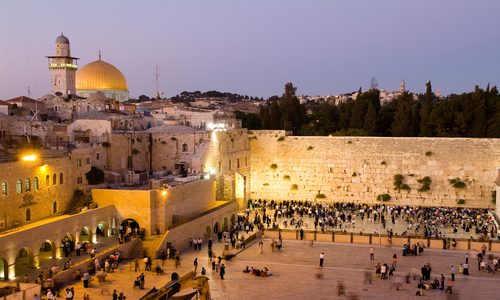 By Merrill Olson
President Trump has declared Jerusalem as Israel's capital. He is also seeking to keep a campaign promise of moving the United States Embassy from Tel Aviv to Jerusalem.
Yet, in other presidential elections, the candidates have given the same promise. Why has it not happened? The answer is simply that both the Israelis and the Palestinians claim Jerusalem as their capital. Therefore, the embassy has remained in Tel Aviv. But, what is rather interesting, too, is that after each candidate has been elected into office, he has negated on his promise with the response, "Well, the time is not right."
So, in seeking solutions regarding this Jerusalem dilemma, there is only one source that contains the answers and it is God's Word. It predicts that a future time is coming when God will settle the sovereignty of Jerusalem once and for all. There will be no debates, arguments, or protests by any nation. What God says will be final!
Nevertheless, Jerusalem will first experience a time of trembling. The LORD says, "Behold, I will make Jerusalem a cup of drunkenness to all surrounding peoples, when they lay siege against Judah and Jerusalem" (Zech. 12:2). This verse points to the famous "battle of Armageddon" described in Joel 3:9-16; Matthew 24:27-30; and Revelation 9:13-18; 16:12-16; and 19:17-21. The nations will try to destroy Jerusalem, but will experience "a cup of drunkenness." In other words, its contents will make them sick and drunk. Great teachers of history are those nations who have tried to destroy the Jews and have found themselves destroyed. It will be the same in this future battle.
The reason is that the Lord will make Jerusalem "a very heavy stone for all peoples" (Zech. 12:3). Jerusalem will become like an immovable rock that will not yield. Even though the invading armies will enter the city, loot it, ravish the women, and take half of the city into captivity (Zech. 14:2), their hopes of destroying it will not happen. The invading armies will be cut to pieces because the Lord is behind Jerusalem. The Bible says that "all who would heave it away will surely be cut in pieces" (Zech. 12:3).
As the armies of the world experience devastation, the Lord will visibly appear as He returns to the earth (Zech. 14:3-7). As He ascended to heaven from the Mount of Olives, He will return in His Second Coming to that spot as the angels promised (Acts 1:9-11). When His feet touch the Mount of Olives, it will "be split in two, From east to west" (Zech. 14:4). Zechariah then describes vividly God's judgment on the enemies of Israel. He says, "And this shall be the plague with which the LORD will strike all the people [also animals v. 15] who fought against Jerusalem: Their flesh shall dissolve while they stand on their feet, Their eyes shall dissolve in their sockets, And their tongues shall dissolve in their mouths" (v. 12).
The final outcome will be ultimate good news for Jerusalem whereby the King, the Lord Jesus Christ will reign from Jerusalem in His Millennial rule (Zech. 14:16-21). It will be the capital of both Israel and the world. Prophetic Scripture is always true! Praise God!
Merrill Olson served as a senior pastor for thirty-four years. He received a B.S. from Minnesota State University-Mankato, an M. Div. from Bethel Theological Seminary, and a D. Min. from Columbia Evangelical Seminary. He is currently involved as an interim pastor along with a teaching and writing ministry. His emphasis is on apologetics and training believers to defend their faith in Christ from God's Word. He is well versed in Bible prophecy as it pertains to end times. He is a gifted speaker with the conviction that only by the Word of God can people experience inward transformation by the Holy Spirit. He has been married to his wife, Jan, for many years and resides in Minnesota.
Leave a Comment
You must be logged in to post a comment.