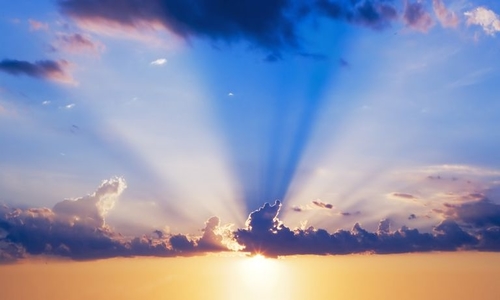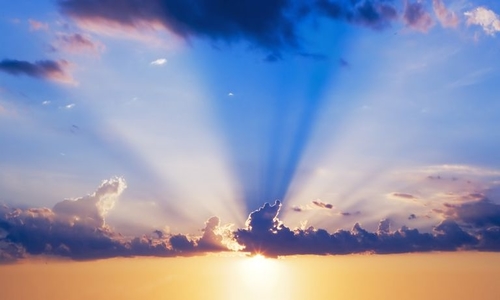 By Paul Bawden

Recently my sister passed away after a two year battle with ovarian cancer. She lost the battle but won the war.
I say that because my sister had a living faith, faith that was placed not in the changing ideas of men, but in the unchanging person of the Lord Jesus Christ, who declared that He was the resurrection and the life, and the one who believed in Him would never die (John 11:25-26). Because of her faith in the bodily resurrected and ascended Lord, she is now in heaven, and someday she will have a new body when the Lord returns. Our family believes that we will see her some day in God's timing. In fact, all believers in Jesus Christ who follow Him will one day be with Him forever.
Such words seem like an idle tale as we live in a world plagued by death. Why do I say that? All of us one day will pass from this life – death will have the final say. Then we see jealousy, hatred, intimidation, murder, abuse of power and money, the control of others, anger, break up of relationships, selfishness, lack of respect for life, unborn and born, immorality on display, while any idea of the biblical God is ignored or passed by – all evidences that death is in us, and we live in a culture of death.
So, in the midst of having death within in us, and expressing death in our thoughts, attitudes and actions, is there life that is entirely different from the death that plagues us in so many different ways, and is on parade in our culture today?
Again, the words of Jesus come to mind, "I have come that you might have life, life in surplus – life in abundance." Then He also stated, but the thief comes only to kill, steal, and destroy (John 10:10). What a contrast! Jesus came to bring life in surplus. The thief, which is the evil one, Satan, comes to exhibit death in all its many forms. In addition, he can make truth look like truth when in actuality it's a lie, for there is no truth in him – he is a liar (John 8:44).
In fact, the death within us, and the death that is displayed through our personalities, actually has come from Satan. For when Adam sinned in the Garden, the evil nature of Satan came into Adam's personality. Since we're all part of Adam's race, that old sinful nature is on display in our lives in a variety of ways, and it's the reason we all will one day die.
Some of the aspects of that old nature inherited from Satan through Adam are sadly displayed in the destruction brought in some American cities, seen in the increase in lawlessness, while those who seek to keep us safe are denounced, with even the killing of some. Even the continual stirring against the reality that all lives matter is master minded by the evil one. Indeed, the thief comes to kill, steal, and destroy.
Christ, through His death, burial, and bodily resurrection, has defeated Satan and the death he brought to us through Adam. Christ brings new life – eternal life – life that brings a new nature to the believer in Jesus Christ – a life that displays moral excellence, knowledge based on God's truth, self control, perseverance, godliness, brotherly kindness, and God's forgiving, sacrificial, and unconditional love (II Peter 1:4-7), while providing the living hope of someday being with Christ forever (I Thessalonians 4:13-18). I trust you know Jesus personally through faith in Him, and relying on His power, the life of Christ is evident in your personality as you daily serve Him. Live in Christ's abundant life!!

Paul Bawden is married and served in the pastoral ministry for 45 years, retiring in 2011. He graduated from the University of Wisconsin-Madison with a B.A. in Speech and attended Dallas Theological Seminary, receiving a Master of Theology. He has taken counseling courses at Trinity Evangelical Seminary in Deerfield, Illinois. Paul is a lifetime member of the Evangelical Free Church of America, as well as being a member of Interim Pastor Ministries (IPM), which serves churches during their time of transition in searching for a new pastor. He writes for Union Gospel Press, as well as being a volunteer writer for GotQuestions.org. Paul likes to write, read, bike, and work in the yard. The Bawdens have had the privilege to travel to Mexico and Romania on mission trips and visited various countries in Europe.
Leave a Comment
You must be logged in to post a comment.