NEWS RELEASE: Atlanta Falcons (NFL) and Hawks (NBA) Support Drag Queen Hour at City Hall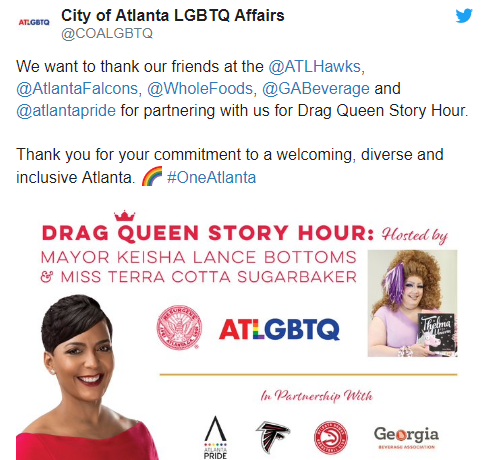 Contact: 4 WINDS, 608-469-7956
MADISON, Wis., July 24, 2019 /4 Winds Christian Athletics/ – The Atlanta Falcons (NFL) and the Atlanta Hawks (NBA) helped Atlanta's LGBTQ Affairs office bring Drag Queen Story Hour to city hall.
"We want to thank our friends at the (Atlanta Hawks, Atlanta Falcons, Whole Foods, Georgia Beverage), and (Atlanta Pride) for partnering with us for Drag Queen Story Hour," the tweet read. "Thank you for your commitment to a welcoming, diverse, and inclusive Atlanta."
Atlanta Mayor Keisha Bottoms invited Miss Terra Cotta Sugarbaker (aka Steven Igarashi-Ball) to perform at city hall after a Fulton County Library branch quit promoting the Drag Queen Story Hour.
"Professional teams continue to promote the LGBT agenda," states 4 Winds Christian Athletics President Steve McConkey. "This is a new low as they try to reach vulnerable kids with their agenda. Parents need to stand up and call the front offices of these pro teams."
In 2003, McConkey started fighting the International Olympic Committee for allowing transgenders in the Olympics. He was the only one who stood against this publicly.
From there, the transgender movement spread to state high schools, the NCAA, NFL, NBA, MLB, and the military. Steve has fought this LGBT agenda every step of the way.
4 Winds Christian Athletics (4 WINDS) is a ministry that stands up worldwide for Christian athletes.
Steve and his wife are the founders (1988) and operate 4 WINDS. They started in world-class track and field ministries in 1981 and have done ministry work through nine Olympics. Steve was a USA National Club Coach from 1982 through 1992 with athletes ranking eighty times. In 2014, 4 WINDS started standing up worldwide for Christian athletes in every sport. Steve operates 4WindsUSA.com and periodically appears in articles and on radio worldwide. He graduated with honors from Western Kentucky University (Master of Science-Public Health), Minnesota State University, Mankato (BS-Community Health), and Webster High School (WI). They have lived in Eugene, Dallas-Fort Worth, Minneapolis-St. Paul, and now Madison, Wisconsin.
Leave a Comment
You must be logged in to post a comment.