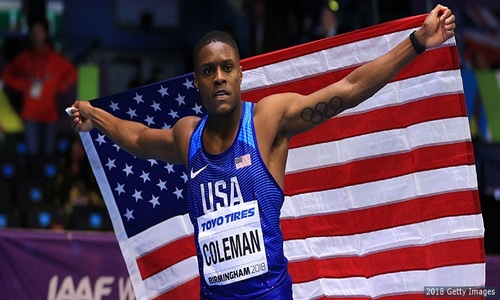 Team USA Dominates Medals Stand At World Indoor Track And Field Championships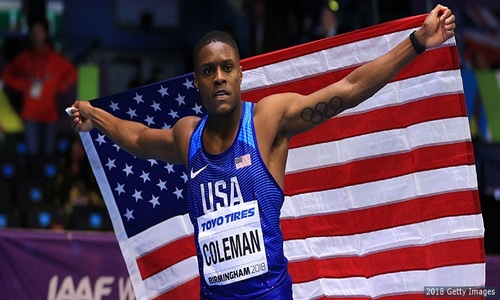 Sprinter Christian Coleman's star continued to rise at the IAAF World Indoor Championships, which wrapped up Sunday in Birmingham, England.
Coleman, who turns 22 on Tuesday, continued his assault on the 60-meter, winning in 6.37 seconds. That was just short of the world record 6.34 he ran in altitude last month in Albuquerque, New Mexico, and tied the previous world record, which he set in January.
His performance highlighted a winning weekend for Team USA, which led all countries with six gold medals and 18 total medals. Great Britain, with six medals, was second.
The other gold medalists for Team USA were Will Claye in men's triple jump, Sandi Morris in the women's pole vault, Courtney Okolo in the women's 400, Kendra Harrison in the women's 60-meter hurdles, and the women's 4×400 team.
Coleman, a 2016 Olympian, has emerged as the next big name in men's sprinting. After making his Olympic debut in Rio, where he ran in the qualifying round of the 4×100, the University of Tennessee sprinter finished second in both the 100 and 4×100 at least year's outdoor world championships in London. In the 100, he was second to veteran teammate Justin Gatlin while defeating world-record holder Usain Bolt of Jamaica, who was competing in his last world championships. TEAM USA
Leave a Comment
You must be logged in to post a comment.