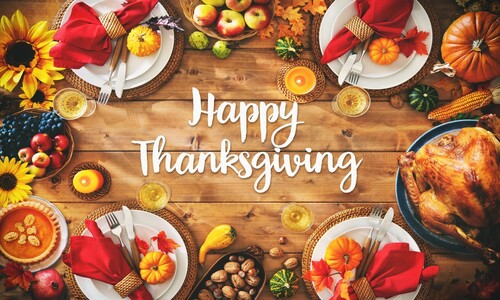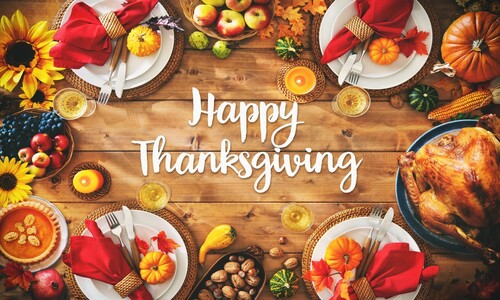 By Paul Bawden

November is the month of Thanksgiving as Thanksgiving Day is next week. Although some may question the factual historical beginnings of Thanksgiving Day, it was eventually established in the USA the last Thursday of November.
Thanksgiving Day is a time to stop as individuals, families, and a nation to give thanks for our many blessings. I realize for some that it may be difficult to give thanks because of what they may have experienced this past year and are even experiencing now, for some the day may be just like every day or just a Turkey Day, and for others the day may be very meaningful for them.
The question I ask regarding Thanksgiving Day is, "why give thanks?" The reason we give thanks is that we have been blessed by someone or we have experienced the blessings of life which are many. Such can be done on a horizontal level, as we thank each other as individuals for friendships and for encouragement, as husbands and wives thank each other for their love and faithfulness, while teaching their children to say, "Thank you." Thankfulness, then, is expressing gratitude for people in our lives, and for the innumerable blessings of life given to us through people including the life we have and the air we breathe.
But there is another level when giving thanks. There is not just the horizontal giving of thanks, but there is also the vertical giving of thanks, where we get into theology as to what kind of a God a person may believe in. Of course, for the atheist or agnostic, vertical thanks is not practiced. Some may have man-made gods that they worship, and in their human limitations they are not able to be a source of any blessings.
What is needed for true vertical thanks, is a God who is personal, eternal, and able to be the source of all of our blessings. I know of only one God like that, the biblical God, who is personal and everlasting (Psalm 90:1-2), who has demonstrated to us who He is, how He would act on planet earth, and do for us what we can't do for ourselves, provide us His forgiveness and eternal life.
Only One, the God-man, Jesus Christ, God the Father's Son, has demonstrated that, making possible for the believer in Him that God, the Father, richly supplies him with all things to enjoy (I Timothy 6:17). That means the biblical God is Sovereign in giving him blessings, is his Source of his blessings, the Supplier of his blessings, his Sustainer in those blessings, and above all his Savior and coming Hope beyond the grave.
Giving of thanks to the biblical God for His many blessings on Thanksgiving Day certainly brings honor and joy to Him, but the believer should have an attitude of gratitude every day of the year as the Scripture teaches, "In everything give thanks, for this is God's will for you in Christ Jesus" (I Thess. 5:18). Notice the verse says giving thanks "in" everything not "for" everything. Giving thanks to the Lord in the good and the challenging times, the believer recognizes that God is in charge and working out the circumstance for his good and for His glory.
Giving of thanks to God gives the believer a new freedom to serve Him with joy. In fact, I understand the giving of thanks to God can improve one's brain and physical health and be an antidote to toxic emotions. Giving of thanks to God for people, saying, "I thank God for you," can improve relationships and open doors for opportunities, while causing the believer to become more like Christ.
Take time as an individual or with your family to count your blessings and name them one by one this Thanksgiving Day. You will be surprised at what the Lord has done! Give Him thanks!!

Paul Bawden is married and served in the pastoral ministry for 45 years, retiring in 2011. He graduated from the University of Wisconsin-Madison with a B.A. in Speech and attended Dallas Theological Seminary, receiving a Master of Theology. He has taken counseling courses at Trinity Evangelical Seminary in Deerfield, Illinois. Paul is a lifetime member of the Evangelical Free Church of America, as well as being a member of Interim Pastor Ministries (IPM), which serves churches during their time of transition in searching for a new pastor. He writes for Union Gospel Press, as well as being a volunteer writer for GotQuestions.org. Paul likes to write, read, bike, and work in the yard. The Bawdens have had the privilege to travel to Mexico and Romania on mission trips and visited various countries in Europe.
Leave a Comment
You must be logged in to post a comment.