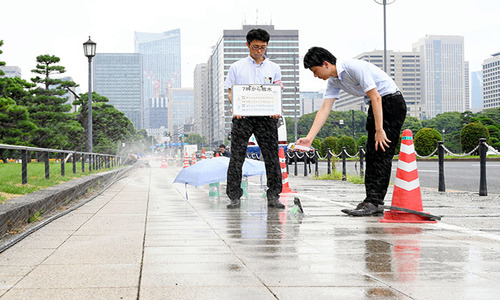 Tokyo Experiments With Spraying Water Along 2020 Marathon Course to Combat Heat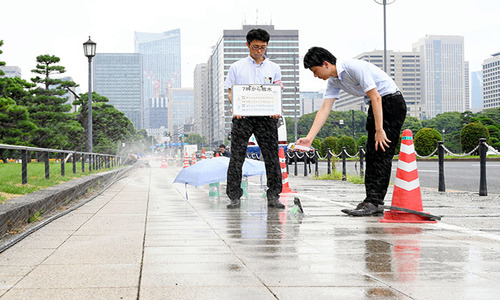 (JAPAN RUNNING NEWS) As part of its measures to deal with the hot conditions expected at the 2020 Tokyo Olympic and Paralympic Games, on Aug. 13 the Tokyo Metropolitan Government conducted an experiment to measure the effects on pavement surface temperature of spraying the road surface with water. Data from the experiments were released to the media.
The experiment was conducted from 4:00 a.m. to 10:00 a.m. along a 120 m section of sidewalk along Uchibori Street in the Imperial Palace's outer gardens in Chiyoda Ward. In the experiment, open-ended tubes used in agricultural work eres placed at the edge of the sidewalk to supply water. Surface temperature readings were taken every 30 minutes for three different experimental scenarios:
spraying water beginning at 4:00 a.m.
spraying water beginning at 7:00 a.m.
not spraying any water
The experiment found that where water had been sprayed, the road surface temperature remained in the 27 to 29˚C range even when the air temperature exceeded 30˚C. Where no water had been sprayed the surface temperature exceeded 30˚C. "Today was a cloudy day, so the difference probably wasn't as great as it would have been on a sunny day," commented commented Tokyo Olympics and Paralympics Operations Manager Nobuaki Takahashi.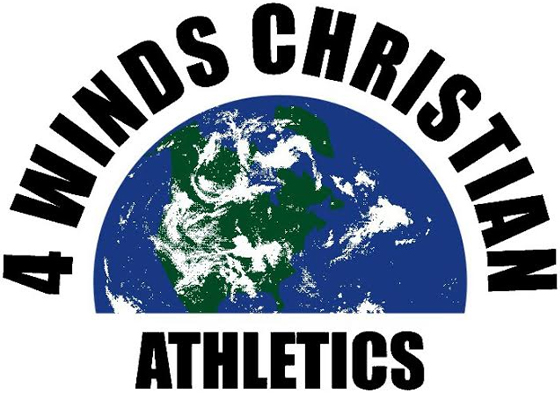 Steve McConkey is the president of 4 WINDS USA, a ministry that stands up for Christian athletes. He regularly appears on worldwide radio and is frequently quoted in global articles. Steve has a Master of Science-Public Health from Western Kentucky University with honors and a BS-Public Health from Minnesota State University, Mankato with honors. Steve and his wife started in world-class track and field ministries in 1981 and began standing up for all athletes in 2014.
Leave a Comment
You must be logged in to post a comment.